Try Pantyhose
Men in pantyhose exclusive content, get ready to break through the taboos.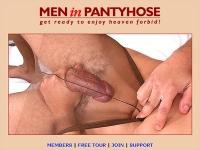 For some reason, this site reminds me of that British sitcom "The Benny Hill Show", though I can't remember old Benny Hill ever being this hot—or pantyhose for that matter. Whoever said that pantyhose was just for girls, trypantyhose.com makes me want to crack one of those plastic L'Eggs plastic eggs and see what's it all about. If you're in the mood to develop a fetish, this site gives a titillatingly hot argument on why hose does not only belong to your mother. Most of the pictures on the site feature male on male action, but straight guys should get an equal fill in the guys and girls section. A lot of the pictures also show remarkably great composition, making it closer to Better Homes rather than Penthouse. But it's that sense of normalcy that makes it even more arousing. Whoever thought that some racy pantyhouse nookie at the office in the middle of the day could be so damn fine. One thing's for sure though, I will never look at my secretary the same way again. The videos can be downloaded or streamed in MP4 format, and are conveniently divided into manageable chunks for better viewing.
The only downside is the lack of diversity in terms of content. Despite being a male bisexual site, most of the pictures and videos show mostly male and male or male and shemale action. Although there is a dedicated guy and girl section, the greater number of bisexual content almost qualifies this as a gay site.
Plus, most of the women featured are Caucasian females in their late 20's to early 30's, all getting their groove on in some type of office location. (I guess secretary fantasies run deep.) Of course, there is an equal representation of males and shemales getting fucked amidst staples and paperclips, though they seem to get fucked in more exotic locations than their female counterparts. Despite having a limited offering of shemales (this is, after all, a pantyhose site and it's better to deal with just one fetish at a time) they boast of a much wider demographic, which also consist of mostly Asians looking remarkably fuckable in the most erotic of poses. But if you're in the market for some male pantyhouse love, then you've come to the right place. In keeping with the country homes theme, you'll see a lot of 30 year old yuppies getting their asses nailed in on a lot of desks or gingham print tables, with the hottest pictures being the ones taken in some Martha Stewart type bathrooms. But for the much younger demo looking for some alternative programming, they have an interesting selection of wounded looking artsy types getting rid of their angst by wearing some hot looking black hoses while getting their fudge packed. The guys do look hot, and choosing between a wild looking yuppie being sucked through his hose and a doe eyed artist with his head thrown back in pleasure as he gets ass fucked on a spattered sofa makes the choosing even harder. (the one with the doctor in black hose getting blown by a tan hosed artist makes up for it though) The site features regular updates and access to other sites that make you want to steal your girlfriends nylon's while she's taking a shower: pantyhosetales.com (for that trusty old Penthouse feel), Pantyhosecoeds.com (for those of us who like them a little young), and plenty more. For $29.95, this site is worth the renewal after thirty days, IF you're into some men on men action. The site may have some diverse content, but if you're a straight guy just looking to wear his pantyhose while he gets some pussy, this site is not for you.


published: 2013-08-06
views:
tags: pantyhose nylons lingerie try pantyhose men in pantyhose pantyhose cock trypantyhose