Pantyhose Discounts
Pantyhose Discounts site review. Check it out.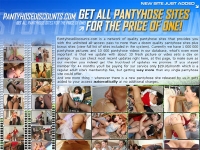 PantyhoseDiscounts.com is the mother of all pantyhose sites, even though it's not really a pantyhose site at all. In fact, PantyhoseDiscounts.com is a hub through which you can access 17 different pantyhose sites, all under one password. It's not hyperbole to say that nowhere else on the internet can you find the same kind of deal. There might be a few places that give you access to three or four sites, but not 17 sites, each of which are stocked will completely original content. That fact bears repeating; each of the 17 sites within the PantyhoseDiscounts.com umbrella has its own original content, there is no overlap. As if that weren't enough you'll also get access to 21 other fetish sites that cover areas like strapon sex, shemales, lesbian sex, and matures. Even if you're not into any of that stuff you're still party to one of the best bargains online.
There are too many sites for me to list them all here, but let me assure you that every facet of the pantyhose fetish is covered by at least one of these sites. You'll get to enjoy pantyhose lesbians, hardcore pantyhose sex, group sex, shemales in pantyhose, men in pantyhose, pantyhose covered feet, and even pantyhose covered faces. The makers of these sites leave no stone unturned when it comes to exploring one of the most popular fetishes in the world.
Some of the sites specialize in only pictures and some specialize in only videos, but because you have access to them all it's really a moot point. The fact of the matter is you'll be getting access to more than 2,000,000 pictures and 25,000 video clips, none of which you can see on any other member site in the world. Everything is shot exclusively for this network of sites and none of it will be sold or given to anyone else. The only way you can access this stuff is to become a member, and there isn't a better reason to do so. Not all of the content is great but most of it is quite amazing, enough so that you won't regret your decision to become a member. Now, if you're not into pantyhose you shouldn't even be thinking about joining, but you probably aren't reading this review if you're not at least a little bit into pantyhose. However, if you're a fetishist or even just a fan you really can't find a better resource.
Once you become a member of PantyhoseDiscounts.com you can enter the member's area any time and select which site you'd like to visit. There's a small screenshot of each site along with the general genre it covers, like Nylon Sex or Pantyhose Group Sex. You simply pick which site you'd like to visit, enter your password once more for safety, and have a good time. Between all 17 pantyhose sites there are updates 2 or 3 times a day, sometimes more. It is literally impossible to run out of content as a member of PantyhoseDiscounts.com.
It should be mentioned that the first month's membership fee is a fairly steep $84.95, although it's really only steep at first glance. When you take a second look at it you realize you're paying on $5 per site, a huge discount on the normal price of $29.95. Plus, if you stay a member for four months your monthly renewal price drops to $29.95 for all 17 sites. I know a review is supposed to contain some criticisms, but there's just so much here that any fan of pantyhose will not be disappointed if they join up. If you'd prefer to just join one site instead of all 17 I would recommend Pantyhose1.com or ePantyhoseLand.com for starters.
published: 2013-08-05
views:
tags: pantyhose nylons lingerie pantyhose discount pantyhose discounts