Pantyhose For Ladies
Pantyhose For Ladies site review. Check it out.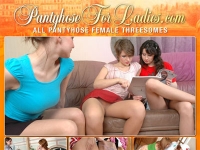 Pantyhose For Ladies sounds like it should be the name of a retail store but it is actually the moniker of a site devoted to nylon fetish and trios of hot lingerie clad lesbians getting it on together. Of course the primary fetish in this generous collection of videos and photographs is actually the legs and nylons.
The group sex and lesbian sex (including plenty of strap on action) that is included in these videos are likely to turn on people of all kinds of different sexual orientations. The women are for the most part quite young and have all kinds of different body shapes, which makes this site a little bit realer in feel then most fetish sites.
This site fills a much-neglected segment of the pantyhose fetish niche in porn that is the sight of real women masturbating in groups while wearing pantyhose. Among the many scenarios featured on Pantyhose for Ladies are a secretary showing her legs to her female boss and a nurse tending to a lusty lesbian patient.
This fetish site is a bit slim on content offering 57 photo galleries with about 100 pictures in each and about 26 video shoots that are about fifteen minutes each. These clips are not offered as full scenes or as multi-bandwidth. They must be downloaded in their MPEG form (.mpg) directly to your computer. Of course as you can only download one two or three-minute clip at a time it can be a drag waiting for your pantyhose porn clips to load. Still some claim this is worth it as the quality of the video is as good as a DVD (a fact that is evident should you decide to screen it on your television.
The photo galleries area very generous and feature all types of pictorials. Most of them are set up so that they are more like a narrative than an art gallery so you can put an erotic story together. In the photo galleries there is something for everyone who has a pantyhose fetish whether you are straight, gay, bi or lesbian. When it comes to this site, the fetish is the thing.
This site also comes with eleven bonus sites that you can access with same password and without paying a cent. All of the sites included with your membership are specifically and absolutely devoted to one subject – the pantyhose fetish. Among the bonus sites included are Pantyhose face which features women pulling pantyhose over their face, Secretary Pantyhose which features boss and secretary type scenarios (but with pantyhose teasing scenes thrown in for good measure) and Nylon Feet Line which is a foot fetish site for those who like toes peeking through pantyhose.
Another great thing about this site is that it has been known to offer one of the most expansive and complete full free trials every now and then so it is worth your while to check the site to see if the free trial to the complete membership is being offered. The membership to the site is offered in differently priced tiers of one time, three months recurring or 3 months non-recurring.
Pantyhose For Ladies also does not discriminate against those without a credit card. You can pay for your membership by telephone using a 900 number or by online check
The site is also very nicely designed and offers the updates all on one page. There is no irritating pop ups and there are no navigation problems. Everything is integrated seamlessly together and even the downloading of the MPEGS works swiftly and with little incident (even if it is a drag to wait for them to load if you have a slow computer!)
published: 2011-11-15
views:
tags: pantyhose pantyhose for ladies