Wives In Pantyhose
Wives In Pantyhose site review. Check it out.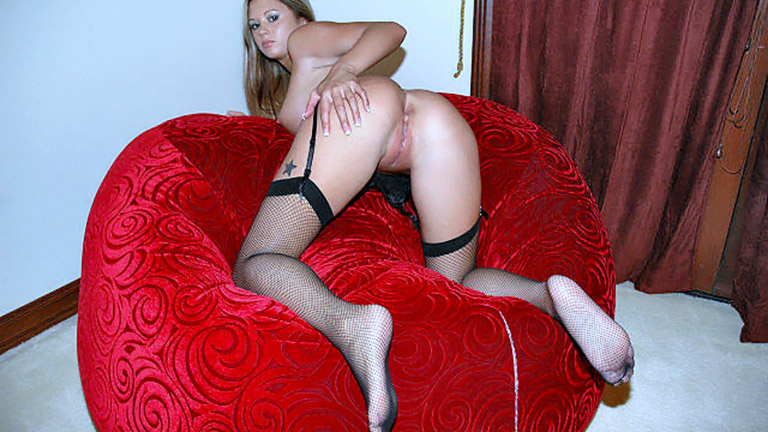 This site is strictly for people who have a fetish for watching women masturbate or have sex while wearing pantyhose. Often the pantyhose are cut open, ripped or shredded to allow some kind of huge member (electronic or human) to enter their vaginas.
There are so many different types of pantyhose represented on this site that Nasty Dollars should consider going into partnership with a hosiery company. There are women in fishnets, women in fluorescent stockings, women in steamed stockings, women in nurse's stockings and also some very sexy videos of women having sex in stockings pulled up by garters and in DIM stay ups. Some of the women also wear heels and yet other models simply have nice feet.
The women wearing the stockings are quite sexy as well, however most of them are of the lily-white variety so you won't find any ebony booty here. These pretty white and pink goddesses are filmed having sex with their stockings in all kinds of ways (including the tearing of a stocking and pulling up the waistband in order to give one a "camel toe" type wedgie) Some of the videos just feature masturbation and other videos feature sex with a well hung men (usually white) and the usual blow job and anal sex.
This site is very up to date, active and popular and at least three new episodes are added a week. There are over 180 video episodes on the site at the time of writing but this number is destined to exponentially explode seeing as Nasty Dollars adds so much new content to this site on a regular basis. However don't get the idea that quality suffers as the result of quantity. The videos on this site are a cut above when it comes to lighting, camera angles and over all erotic verve.
The videos, that average in length at about a half an hour are available both as downloads and as streaming videos. You are also given the option to watch the streaming versions at the quality level that best suits your computer. You can also download the videos in MPEG format however you may only be able to download those in two or three minute clips as well.
Full membership to Wives in Pantyhose also includes full membership to 26 other porn sites that feature everything but the kitchen sink -including Tranny Surprise (which features transvestites and transsexuals tricking foolish straight men into thinking they are women), All Amateur Movies (which features raw footage from porn star wanna bes) and 8th Street Latinas (a highly rated site featuring Latin American beauties doing it with each other and getting reamed every which way).
Membership to Wives in Pantyhose also includes access to some very interesting third party sites including several live sex cam companies that allow you to chat with naked couples, teens and adult stars. You also get access to a unique 24-hour voyeur cam that allows you to spy on a gaggle of giggling girls living in college dorm.
You can try the site out before you buy a full membership by taking the trial membership for three days however keep in mind that the trial membership only gives you access to some of the content on the site. In essence the trial membership only allows you to download the first few clip soft a video at a time. Keep in mind too that if you do decide to subscribe to the trial membership but then decide that you don't want to join that you have to remember to cancel the trial or the full membership fee will be automatically deducted from your credit card.
published: 2011-11-15
views:
tags: pantyhose wives in pantyhose sexy wives pantyhose wife