Lemoncams
Lemoncams is a search engine for free sex cams. Choose a free sex show and filter by hair colour, category, gender, language, country, age, body type, HD or new cams.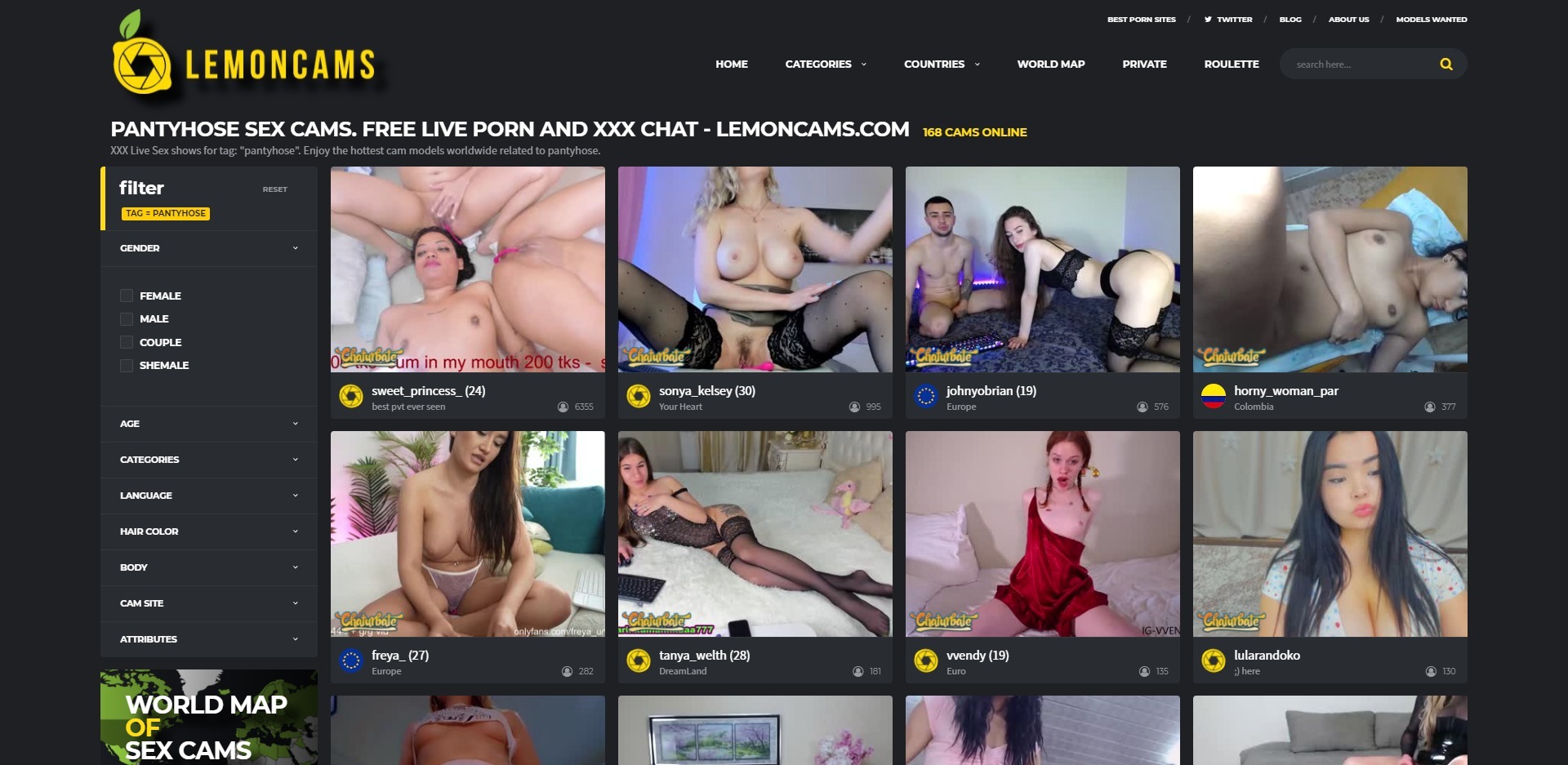 The Perfect Place To Watch Models In The Sexiest Pantyhose
When it comes to adult content, there is probably nothing better than seeing it unravel right before your eyes, which is exactly the case for live sex cams. There are quite a lot of sites out there that have all kinds of models under their name, however, when it comes to lemoncams.com, it has pretty much all of them, as it is a site that tries to unite all the camgirls in one place.
Great design
One thing that deserves quite a lot of props is the site's logo, it is so simple, and yet so clever. Now that is out of the way, how does the rest of the site hold in terms of design and navigation? Well, for starters, it does not have any bright colors, which is always a blessing that a lot of people do not appreciate until they visit a site that has bright white or green colors that are hard on the eyes. You can also immediately see some of the active models and real-time thumbnails of what they were doing as you loaded the page, which is always appreciated.
Navigating the site is also quite nice, as their buttons for doing so are placed inconvenient places. Most of the buttons to navigate the site are on top of the page, but there are a couple of important ones on the side, and those are mostly filtering buttons that we are going to discuss in more depth a bit later.
All kinds of models
Since the site unites pretty much all major cam sites under one roof, you can expect to find all kinds of models. No matter what you are into, you are going to find something that turns you on. Whether you are into blondes, brunettes, redheads, tattooed babes, or babes in lingerie, you are bound to find a lot of models that fit such a category.
One type of model that definitely deserves a bigger highlight is pantyhose models. If you are looking for some pantyhose live porn, this is definitely the place to be at, as you can easily filter out all the models that wear pantyhose, and you can filter things even deeper than that.
Incredible filtering
Usually, when it comes to filtering webcams, the sites do quite a bad job at it, as you have to bind yourself to a single category or tag. When it comes to lemoncams, that is not the case at all. For starters, if you visit lemoncams.com/pantyhose, you will immediately get a huge list of online cam girls that are either wearing pantyhose or will do so for some tokens. After that, you can filter things further with the filters that are on the right.
Of course, the first thing you can filter is the gender, then the age, body type, and hair color. Those are some of the basic filtering options that you can combine, but things go beyond that. The categories tab will give you an option to pick between all kinds of tags such as big boobs, hairy, tattoo, teen, etc. Now, where lemoncams differs the most from any other site is that you can filter by language, country, and the cam site.
The language one is in the filter bar, and it is incredibly useful as it can be quite frustrating when you want to ask a camgirl to do something for you only so she does not understand your request. Filtering by a country is located on the top of the page, and you can actually see all of the models that are online in that country. Keep in mind that some models did not set their country, so you might miss out on some models if you use this filter.
If you are feeling extra adventurous, you can press the "roulette" button that can be found among the menu buttons at the top. What this button does is takes you to a random camgirl's room. This is probably the best way to just randomly explore camgirls as you never know which one you are going to get, and you might get a night surprise by discovering the perfect camgirl for you, or a new fetish that you might be into.
Multiple cam sites
Since lemoncams.com tries to unite various sites, it is a given that you can filter via those sites. Chaturbate, Bongacams, Livejasmin, CamSoda, and StripChat are the current sites that you can filter through. Why does filtering through cam sites matter? Well...while you can access all of those sites from this one, you will still need an account on the other ones to actually chat and tip the model.
Naturally, if you are a free user who just wants to lay back and relax while watching some hot babes in pantyhose showing off their goods without ever tipping them and chatting with them, this is fantastic. However, if you want to say hello, or if you want to tip to see something that turns you on, you will have to register on each site individually and purchase tokens there to actually tip as they are not shared across all cam sites.
Registering is free
While it might be a bit disappointing that you have to purchase tokens on each site individually, you can still register on all of the sites for free, which means that you can still chat with all the models without spending a penny. This is somewhat of a double-edged sword, but in general, the positives definitely outweigh the negatives.
Conclusion
There are quite a lot of things that lemoncams.com tries to do, and it does a fantastic job with it. The only real issue is the part where you need multiple accounts to interact with the models, which might get a solution shortly. To be honest, registering on multiple sites takes less than a minute for each, and you only have to do it once, so it is not that big of a deal. If you want to explore the world of cams, this is the best site for something like that out there, as it offers an incredible and unique approach.
published by: hosienna
published: 2021-05-18
views:
tags: lemoncams lemon cams sex cams